Parts Search
Shop by Parts Breakdown
Browse
Mega Spray Head Valves Frequently Asked Questions
Please click on the corresponding question below.
---
What does SHV and VSS mean?
Mega uses the terms SHV and VSS quite often in our publications. SHV stands for "Spray Head Valve" and VSS means "Vertical Side Spray".
---
My spray pattern has a blank dry spot in it. What should I do to correct this?
Mega spray heads have an adjustable ring that changes the flow rates and direction of the spray. Use this adjusting ring to control the intensity and geometry of your spray pattern. If that does not work, check the spray head assembly for debris and damage to the guide disc or lower housing. See image below for a demonstration of this. If your problem persists please contact Mega Product Support for assistance and more information.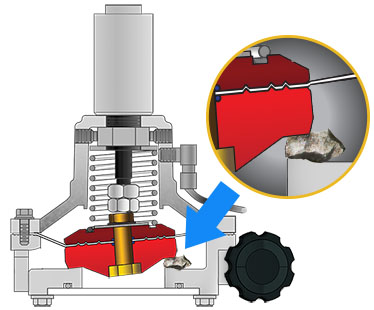 Sample of debris caught inside & under the drop-in assembly of SHV.
---
Can I still order the Pneumatic 2 inch spray heads?
The Mega pneumatic 2 inch SHV's have been discontinued. Mega offers an aluminum pneumatic 3 inch SHV for pneumatic systems.
---
All of these customization options are kind of overwhelming. Does Mega offer training of any sort?
Yes! Mega offers on-site operator training. We can send a Product Support Representative to your site to teach and demonstrate the Mega spray system installation, adjustments, and best practices. If you are interested in our on-site training, contact the Mega Product Support Group for pricing information and schedule availability.
---
We purchased a water tank without vertical side spray heads, can they be added?
Yes, Current MEGA water tanks can be upgraded to control up to 8 spray heads and 3 butterfly valves with Non DiSCS® systems and the DiSCS® systems can control 6 spray heads and 3 butterfly valves. Contact the MEGA Product Support group at 505.345.2661 if you have any questions.
Please make sure to have your tank serial number to see if your control system is capable of supporting these additional features. Location of our Mega serial and model numbers can be found on our website at http://www.megacorpinc.com/parts/serial.asp
---
Where do I find Mega serial and model numbers on my piece of equipment?
For faster service, please provide a Mega serial number when you call. These can be found on either in the front or back of the tank. Please
go to our Mega serial and model number locations page for more detailed information.
---
Do you have a parts book?
Currently our parts book has been replaced by our Mega Sourcebook. You can visit our main parts page or download sections of our Mega Component and Performance Sourcebook. If you are looking for a specific part that is not covered in our Mega Sourcebook you can do a search on our parts page or you can contact Mega Sales Rep Jose Barraza.