Parts Search
Shop by Parts Breakdown
Browse
2017 May
THINK

MEGA

The Mega quarterly newsletter detailing current events and news.

(505) 345 2661 • 1 800 345 889 • Fax (505) 345 6190
Message From The President

It has been a busy start to the year for Mega - we participated as exhibitors at ConExpo in March, following close on the heels of MinExpo in September. We successfully completed delivery of three detachable gooseneck trailers to a new mine in Brazil. We shipped the last of our 631G-based MES34 elevating scrapers from our inventory to a new customer in Haiti and we are working on an order for more. We are currently installing an MTT52 52,000 gallon (197,000 liter) tank onto a Komatsu 830E in Chile - the second one of these we have delivered in the past 6 months.
The global mining and construction markets are becoming more active - our backlog has not been this big since 2012. Housing starts and commodity prices are up while machine inventories are low, so quotes are turning into orders at a faster pace. It's not quite like business was in 2005-7 yet, but it is starting to feel a bit familiar. Our parts sales and product support business has been especially busy updating older machines with modern controls, corrosion resistant spraying components and fire fighting foam systems.
On the home front, our Operations Department continues to maintain a safe workplace environment - we are now at 1,250 days without a Loss Time Incident (LTI)!!! Thank you to everyone for your efforts to keep our shop injury free! To all of our customers, suppliers and partners around the world, we thank you for Thinking about Mega!
Best regards,
---
Mega MES34 Elevating Scraper for Haiti Earthmoving Project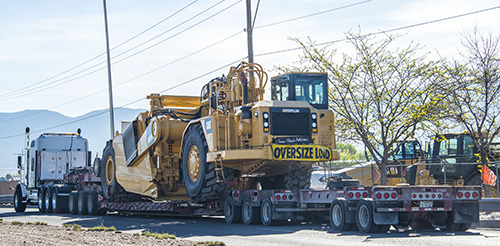 Mega has delivered an MES34 elevating scraper to Haytrac, the Caterpillar dealer in Haiti. This is the last of the 631G model WTS-derived scrapers - development of the 631K model version is underway. The MES34 will be used for major site development in Haiti and is the first product Mega has sold into this country. We are pleased to welcome Haytrac and their customer to the Mega family!
---
Training @ Cerro Verde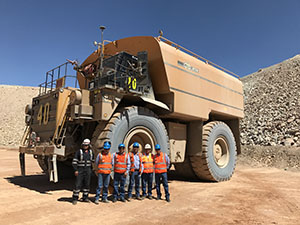 Mega completed operator and maintenance training for Mega MTT water trucks at Compañia Minera Verde Mine in Peru. Cerro Verde purchased 2xMTT44 Mega water trucks, delivered last year through Ferreyos, the Caterpillar dealer for Peru. These machines joined a fleet of 12 units in total that are used for dust control, compaction and fire suppression applications at this site. Cerro Verde Mine is a large copper and molybdenum mine located at an elevation of 8,500 feet (2,600 meters). It is owned by Freeport McMoRan and located near Arequipa in southwestern Peru.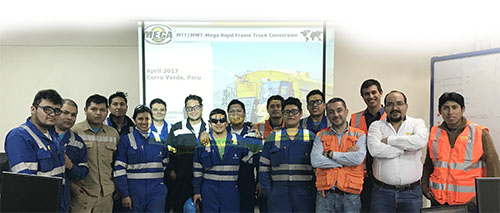 ---
Detachable Gooseneck Trailer for Brazil Iron Ore Mine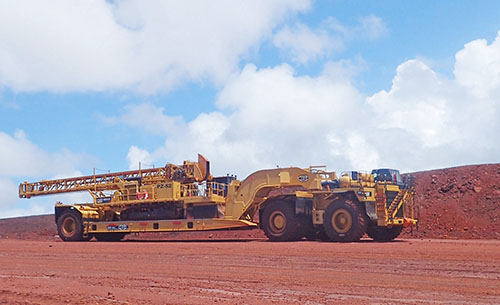 Mega has successfully commissioned the first of three detachable gooseneck trailer arrangements at the Vale Carajas Complex iron ore mine in Parauapebas, Para, Brazil. These trailers are the first Mega has offered with the detachable gooseneck feature and are combined with Caterpillar 785D mining trucks converted by Mega to tow tractors.
These machines were sold through Sotreq, the Caterpillar dealer for Brazil, and will be used to move equipment within the mine including dozers, drills and other tracked equipment. This mine is an innovative design featuring the use of conveyors to move material - for more information about the application please visit:
http://www.vale.com/EN/initiatives/innovation/s11d
For more information about Mega Equipment Trailers contact our Mega Sales Department or your local OEM dealer.
---
MTT52 for Collahuasi Chile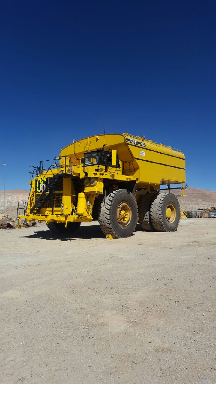 Mega has delivered an MTT52 52,000 gallon (197,000 liter) water tank to the Collahuasi Copper Mine in northern Chile. This unit was sold through Komatsu Chile and is being installed onto a Komatsu 830E mining truck for use in dust control within the mine.
This is the first MTT52 Mega has delivered in South America and is the largest we have built for this market. The Collahuasi Mine has one of the largest copper reserves in Chile and is located at 14,500' (4,400m) elevation on the Andean Plateau in the Atacama Region of Chile.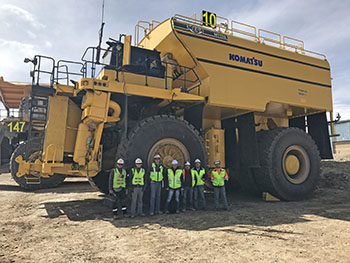 ---
MTT30 FOR SABINE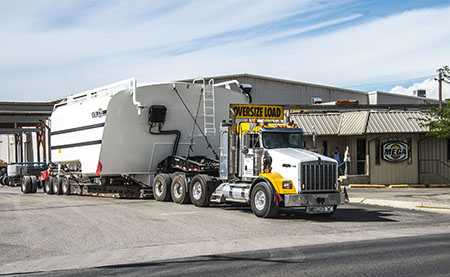 Mega has delivered a MTT30 30,000 gallon (114,000 liter) water tank to Holt Cat, the Caterpillar dealer for a large portion of Texas. This tank will be placed into dust control service at Sabine Mining Company (a division of North American Coal Corporation) @ their mine near Longview, TX. Sabine Mine provides lignite to Southwest Electric Power Company's Pirkey Power Plant.
---
Mega @ 2017 Exponor
Finning Chile displayed Mega parts & technical literature in their booth at Exponor Chile 2017 in Antofagasta May 15-19th. Mega representative Claudio Cordova was on hand to answer questions. Here are some photos of their booth.
---

The QCCP- Quick Change Component Package provides the end user with specific operation critical parts for the Mega water tank spray system. Having these parts on hand can reduce downtime by eliminating wait time for acquiring replacement parts. These kit parts can be customized to an end user's needs and water tank fleet. Contact your Mega dealer for complete parts kit list details or contact your Mega sales representative at 1-800-345-8889 for more information. Please contact our Mega sales team for purchasing information.
---
GET $500 DOLLARS OFF A MEGA WATER PUMP!

Mention this ad and get $500 dollars off the list price of our M-4B water pumps. Please call Mega Parts Sales at 1-800-345-8889 to redeem this coupon. Offer good only for Mega water pumps 306200, 306201, and 306647.
---
NEW EMPLOYEE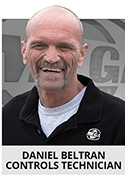 Mega welcomes new employee Daniel Beltran to the Mega team!
---
---
MEGA retains all copyrights in any text, graphic Images, and content owned by Mega Corp. and hereby authorizes you to electronically copy documents published herein solely for the purpose of transmitting or viewing the information. You may not mirror, modify or otherwise alter any files for rebroadcast, or print the information contained therein, without written permission from Mega Corp.